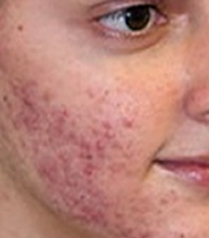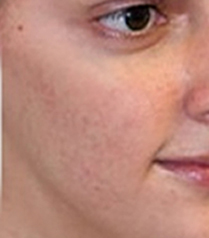 Client result above. Move slider
bar to see before and after.
Many people think of acne as a normal problem for adolescents and young adults. However, acne can be a problem well beyond early adulthood. Even in young people, acne can cause lasting problems. Acne scars can cause discoloration to the skin and even cause long-term damage. However, DermalMD's Acne Serum may offer a solution to the millions of people suffering from this issue.
Other acne treatments merely dry skin and cause a rebound effect of even more oil production. DermalMD® offers a proprietary blend of scientifically proven vitamins and natural ingredients that have been shown to reduce acne breakouts while restoring healthy skin and diminishing scars.
This Acne Serum works on multiple levels to completely resolve acne, including:
Reduce numbers of unhealthy bacteria in skin and follicles, which decreases the number of blemishes and pimples
Repair skin damage through the action of antioxidants in the serum
Increase collagen, which improves skin tone and enhances scar healing
Moisturize skin without causing oiliness or breakouts
Lessen the production of sebum and oil, which contribute to breakouts
Restore a healthy pH balance, preventing new blemishes from forming
DermalMD's Acne Serum is scientifically formulated to condition the skin and restore a healthy tone. Not only does this acne serum not dry or damage skin, but it also even heals the damage left by other treatments. Specially selected vitamins act as antioxidants, reversing aging and reducing scars at a cellular level. This serum also contains natural herbs and other substances proven to cleanse skin and reduce excess production of oil and sebum. Lastly, DermalMD's acne serum actually increases the production of collagen and other vital skin elements that maintain healthy skin and a youthful appearance.
People who suffer from acne already have daily damage to their skin from blemishes and pimples. There is no need to incur more damage. DermalMD's Acne Serum will prevent blemishes and heal damage with a safe and scientifically proven formula.
***NOTE: This is only a limited time introductory sale.