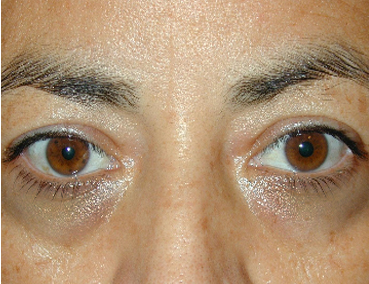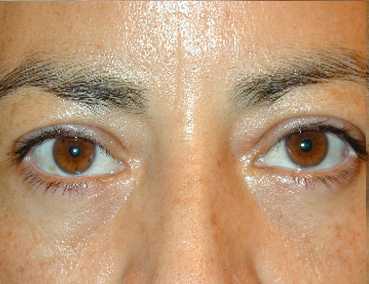 Client result above. Move slider
bar to see before and after.
(Individual results might vary)
Many people struggle with under-eye circles. These circles are frustrating because they make people look older and tired. Concealing creams do little to help. However, there are not many effective remedies on the market. This is because under-eye circles are caused by a variety of different factors rather than just one thing.
Sun damage, swollen blood vessels, accumulation of fluid, and decreased collagen production are the root causes that create unsightly under-eye circles. DermalMD's under-eye Treatment offers scientific solutions to all of these problems in one simple serum. Under-eye circles are removed in a scientific manner that addresses the root causes on a cellular level. These treatments have been carefully researched and found to treat under-eye circles effectively.
DermalMD's under-eye Treatment restores healthy and youthful skin under the eyes by treating the underlying causes of under-eye circles. Here are a few of the benefits:
Strengthen and tone thin under-eye skin to decrease bags and thinness under the eyes
Restore healthy blood flow to allow drainage of fluid causing puffiness and reduce redness from swollen blood vessels
Increase production of collagen to produce firm and evenly colored skin without bags or fine lines
Heal sun damage, which disproportionately affects thinner skin such as that under the eyes
Other under-eye remedies try to resolve the issue with drying toners and bleaching ingredients. Not only does this offer only a temporary solution, but it also damages the skin under the eyes and produces worse under-eye circles. Dermal MD's under-eye Treatment works on a cellular level to reduce inflammation and puffiness, strengthen skin, and heal damage.
Undereye circles make a person look tired, aged, and unhealthy. Getting rid of the discoloration, puffiness, and bags in a healthy and scientifically proven manner will restore skin to its youthful tone without harmful side effects and damage. DermalMD's under-eye Treatment rejuvenates skin and supports healthy cells that create a youthful and well-rested look.
***NOTE: This is only a limited time introductory sale.