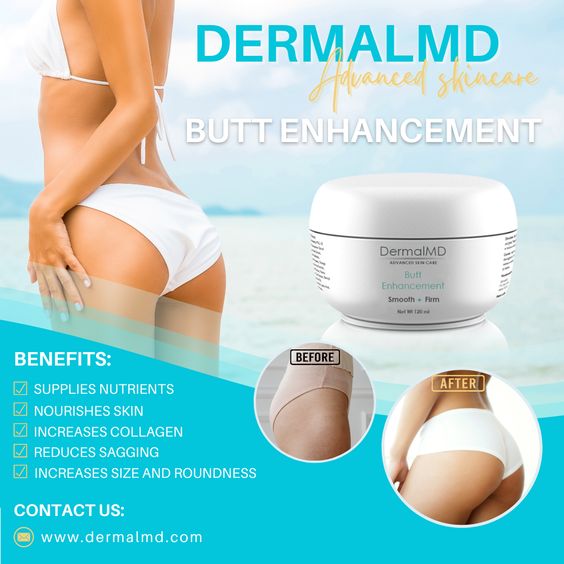 Having a healthy, round, and supple backside is more important than ever. While women once focused on being thin and on having large breasts, the derriere is now one of the most important factors in sex appeal. Many women try supplements and special foods or do hours of squats and other exercises every day, to no avail. It may seem that having a firm and the round bottom is largely due to genetics.
However, scientific research has revealed that there are cellular differences in women who have a firm round gluteal region. The cells are optimized to hold both muscle and adipose tissue. The skin is elastic and supple, giving tissue an attractive roundness. Because we know now what causes a round and attractive backside, we also know how we can make any backside rounder. DermalMD's Glute Booster is the first serum to use scientific knowledge to stimulate gluteal growth.
DermalMD's Glute Booster works on a cellular level to:
Supply nutrients needed for healthy muscle growth
Nourish skin
Increase collagen formation, which gives a plump and smooth appearance
Increase skin production of elastin, which reduces sagging or looseness by increasing the tightness and elasticity of skin over the gluteal region
Encourage cells to attract and maintain adipose tissue, increasing size and roundness
While other remedies merely add moisture to the region, DermalMD's Glute Booster works on a cellular level. It supplies cells with the nutrients they need to build muscle while also stimulating adipose cells to maintain more weight and roundness. It maintains healthy, supple skin to give the bottom a round and smooth appearance without dimpling or sagging. It reduces cellulite in the region and replaces this unhealthy tissue with a firm, round bottom.
If you have ever been ashamed of your derriere, there is no longer a reason to feel this way. DermalMD's Glute Booster will give you the healthy, attractive bottom that you desire for maximum attractiveness and sex appeal. If you want a round and curvy figure; now there is a safe and scientific way to achieve this with DermalMD's Glute Booster.
Do Butt Enhancement Creams Work?
Yes! Butt enhancement creams do work, but they are not a miracle-worker. While these creams have some proven benefits, they require dedication and consistency when it comes to application. The active ingredients in the cream help to stimulate collagen production and increase skin elasticity which can give your butt an extra lift. However, you should always research and consult a doctor before using any butt enhancement cream. Additionally, diet and exercise can help achieve better results combined with the cream. With dedication, you can achieve the booty of your dreams!
In conclusion, do butt enhancement creams work? Absolutely! But do be sure to do your research, consult a doctor and be consistent with your application routine to get the most from the product. You can achieve the booty of your dreams with hard work and dedication! Good luck!