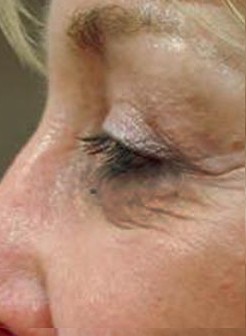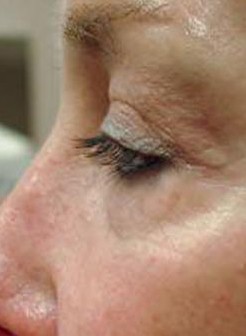 Client result above. Move slider
bar to see before and after.
Many people struggle with wrinkles, fine lines, and sagging skin as they age. Anti-aging creams and other moisturizers may offer temporary results lasting just hours, while more permanent solutions such as plastic surgery are expensive and even dangerous. However, there is hope for people looking to rid their skin of these wrinkles and other signs of aging. DermalMD Anti-Aging Serum offers a scientifically-based solution to all of your anti-aging needs.
How does DermalMD Anti-Aging Serum even out and control the signs of aging? This formula has been scientifically created to:
Increase elastin, giving skin a firm and youthful tone
Encourage the production of collagen, which fills in fine lines and adds youthful fullness
Gently moisturize to increase your naturally glowing appearance
Exfoliate to remove dead skin cells that add a dull and aged appearance to the skin
Penetrate the deepest levels of skin to reduce the appearance of deeper lines, such as expression lines, and give skin a smooth and firm foundation
Help form new skin cells to replace aged ones
Wrinkles and fine lines are a natural byproduct of normal aging. The skin stops producing as much elastin and collagen, which makes skin lose its firmness, tone, and natural stretch. Skin cells begin to divide at a slower rate, allowing older cells to build up and give a dry and lifeless appearance. Over time, this causes wrinkles, both superficial lines and deeper grooves.
Many moisturizers attempt to resolve this by plumping up skin cells at the surface. While this will temporarily restore fullness to the face and reduce fine lines, it does not work for the long-term because it does not address the underlying causes of aging that produce wrinkles. DermalMD Anti-Aging Serum works scientifically to address the biochemical causes of wrinkles and fine lines, smoothing out the skin in a natural way that restores the cells rather than damaging them.
DermalMD Anti-Aging Serum is a natural response to the underlying causes of aging. It acts on a cellular level to restore skin to youthful smoothness. Scientific research has identified the causes of aging and wrinkles; why not use that knowledge to have healthier and more attractive skin?